Team Alaska / AK Awesome
Team Captain Waddity Pier - Wade is a carpenter and has been snow sculpting with AK Awesome since 2010. He is Awesome. He has participated in the US National competition in 2012, 2014, 2015, and 2016. He is a previous "OM Award" winner!
Jeffay Mellor - Jeffay is a plumber/pipefitter and has been sculpting with AK Awesome since 2010. He is Awesome. He has participated in the US National competition in 2012, 2014, 2015, and 2016.
Mattay Lloyd - Mattay is a graphic designer and has been sculpting with AK Awesome since 2010. He is Awesome too. He has participated in the US National competition in 2012, 2014, 2015, and 2016. He is a previous "OM Award" winner!
Team Sponsors: MooreSpark Graphic Design
Like AK Awesome on Facebook! https://www.facebook.com/TeamAKawesome/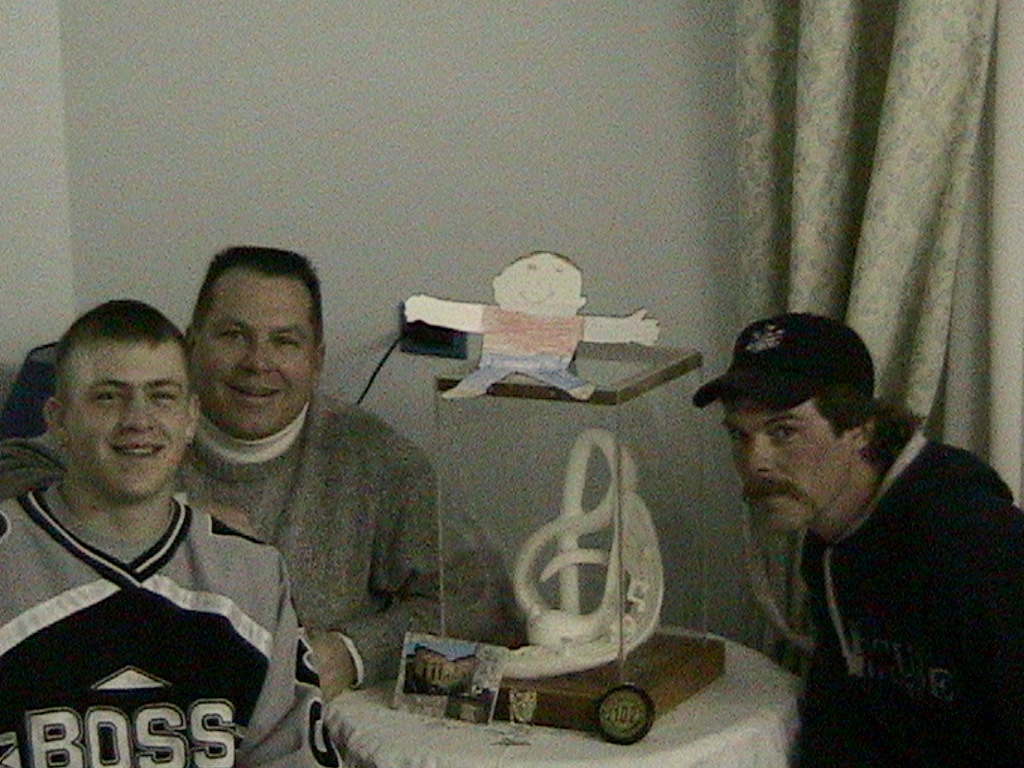 Team Colorado
Team Captain Steve Mercia - Steve has been sculpting since 2001 and was the founder of the Colorado State Event since 2012. He competed in the 2001, 2003, and 2016 US Nationals Event.
Alex Amys - Alex competed with Steve Mercia and his Dad Randy in Italy 2004 and in China in 2005 along with US National Events. He has been snow sculpting or helping his dad sculpt all of his life!
Randy Amys - Randy helped start the snow competition in Breckenridge - ʺFather ʺ of snow sculpting in Colorado - he has competed for many years in competitions all over the world, including the US National Event!
Team Iowa
Team Captain Hugh McCarron - Hugh is a Designer for the City of Dubuque Engineering Department and has lived in Dubuque for most of his life. His hobbies include Blacksmithing, Stained Glass, and Painting - he is the owner of the Celtic Forge Blacksmith Shop in Dubuque, Iowa. Hugh has been sculpting snow since 2010 at Lake Geneva for the US Nationals. He has also sculpted snow for the National Mississippi River Museum & Aquarium for their Icefest event. He started sculpting in 2010 when a friend asked if he would be interested sculpting snow for Lake Geneva. Hugh was hooked after my first event! He has been at the US National Competition in 2010, 2011, 2012, 2013, 2014, 2015, and 2016.
Wayne McDermott - Wayne is an exhibit artist at National Mississippi River Museum and Aquarium in Dubuque, IA. He grew up in Galena, Illinois and earned a bachelor's degree in fine arts at the University of Wisconsin - Platteville. He has been creating and maintaining exhibits at the National Mississippi River Museum and
Aquarium for 32 years. He started snow sculpting at a winter festival at the museum about 10 years ago and has been participating at it off and on over the years. He dabbles at lots of creative projects at home and at work, using lots of different mediums from wood to stone to plastics. He is continually working on restoring an old house and yard. He likes to camp, hike, and kayak as well as travel. He participated in the 2016 US National Event.
Dave Maloney - Dave is retired and holds a Masters Degree in Art Education and a BA in Graphic Design. He has been a wood sculptor for over 60 years and has taught wood carving and sculpture classes in four states. He has participated in the US National Event in 2012, 2013, 2014, 2015, and 2016.
Team Sponsors: Mississippi River Museum & Aquarium and
Celtic Forge Blacksmith Shop
Team Idaho
Team Captain Jeffrey Weston - Jeffrey has been sculpting for 25 years and has participated in the US Nationals Competition four times, he took second place in 2004 and Champion in 2005!
Richard Brown - Richard is a chef and his only dietary concern on his application this year was "good food" - which we promise to accommodate! He has been a five time Idaho State Sculpture Champion!
Bill Dow - Bill is the 2nd place World Sand Sculpture Champion!
Team Illinois - "Quatschmen"
Team Captain Peter Hermann - Peter has sculpted for many years at the Illinois snow sculpting competition, Chicago Snow Days, in Racine for WI State Competition and in Lake Geneva for the US National Competition in 2010, 2011, and 2013 where his team won the People's Choice Award!
Jack Gerard - Jack sculpted in at the US Nationals Competition in 2010, and 2013 where the team won the People's Choice Award -- he said there were also some other years in there too!
Lyndon Bute - Lyndon is a retired artist and has sculpted at the US National Event "numerous times"!
Visit the Illinois State Snow Sculpting website at www.ilsnowsculpting.com
Team Maine - "The Carvavores"
Team Captain Amanda Bolduc - Amanda is a homeschooling mother of 3! Her love for carving sand and snow started in 2006 on Fort Myers Beach in Florida. She entered my first amateur competition with her fellow sculptor, Cathy (also her mother). From that day forward, they both fell in love with turning of inner thoughts into 3D images. She currently competes at an Advance Amateur level in different sand sculpting competitions around the country. Her favorite part about sculpting is seeing the reactions and emotions generated by the audience when viewing each piece of art. Amanda sculpted at the US National Competition in 2016.
Cathy Thompson - Cathy hails from Madison, Maine. She has been sculpting since 2006...in sand. It wasn't until 2015 that she competed in her first snow sculpting competition in Camden, Maine. Teamed with her daughter, Amanda, they won first place and represented the State of Maine in the 2016 National Sculpting competition at Lake Geneva, Wisconsin. Cathy has played in the snow for years, delighting neighbors with her front yard snow sculptures. Also, she has won first and second places at several other amateur sand sculpting competitions in Ft. Myers, Florida over the years as a solo sculptor and as a team with her daughter. "My experience in sand sculpting has honed my skills in snow. Though the tools and mediums are very different, the sculpting concepts are the same...using shadows and sharp edges to better define the piece." She is very excited to be returning to compete at Lake Geneva again in 2017.
Paul Warren - Paul Warren has always loved design and loved the beach, and finds that sand sculpting is the perfect combination of these passions. He grew up loving long days by the ocean and, as his daughters were growing up, entertained them with sand sculptures of alligators, turtles, castles and cartoon characters. In 2009, after realizing he couldn't use his now-grown daughters as an excuse to play in the sand anymore. Inspired by the works of art he witnessed at Revere and Hampton Beaches, he entered his first amateur competition in South Padre, Texas in 2009. He enjoys competing at both the amateur and advanced amateur levels nationally. In 2015, his competing has resulted in third place Advanced Amateur awards at the Blue Water Sand Fest, American Championships of Sand Sculpting, and a first place Pro-Am award at the Wildwood Crest Beach NJ Sand FestHe spends as much time as he can practicing on beaches in New England, Aruba and elsewhere. He also competes in the annual snow sculpting events in Jackson, NH and Camden, ME Winterfest, and competed in the 2016 United States National Snow Sculpting Competition in Lake Geneva, WI. Paul lives in Massachusetts with his wife (aka water carrier). He works as an independent design engineering consultant. When he can't get to the beach, Paul spends his spare time playing golf or the bodhrán.
Team Sponsors: Camden National Bank, Bay View Collection....more to come!
Team Michigan
Team Captain David Swarts - David is retired and he has been snow carving competitively for seven years now. He said that he inadvertently stumbled upon a carving competition in Frankenmuth, Michigan and said " I could do this." That next year, the team was comprised of a few high school buddies, and it turned out, he could! Now, it's become a passion and he loves it. David competed in the 2016 US National Competition.
Brian McDougal - Brian is a Petroleum Engineer and was "sucked" into snow carving by one of his friends. "It'll be fun, you'll love it. You're fed like a king, we'll drink a lot of beer, and did I mention, you get to work all night in the freezing cold." But he did love it. Now he has mastered the art of leaning on his snow shovel and chatting up the visitors that walk by at the events. He competed in the 2016 US National Competition.
Brian McDougal Jr. - Brian is Head of the school district's competition fields groundskeeping and got involved in snow carving through his dad and his buddies. There was one year his Dad couldn't make a competition, and he was asked if he could go instead. He had some background in drawing, so he figured, "How tough could this be?" Brian had a great time and it didn't hurt that he also won the state competition!
Team Minnesota - "Dino Fight"
Team Captain Jaymie Stocks - Jaymie is a canoe trip outfitter and works for an outdoor retailer and oufitting company on the edge of the BWCA in Ely, MN. In the summer Jaymie works in the outfitting department, and the rest of the year works in the shipping department packing and processing catalog and web orders. In Ely, attending the local community college, Jaymie took studio art classes and then went on to the University of Wisconsin-River Falls to learn glass work. There Jaymie took both cold and hot shop glass classes, ceramics, drawing, metals, and fibers. A friend invited Jaymie to join her team one year, andhas been sculpting every year since then! Jaymie has been sculpting for nine years.
Heather Friedli-Ratzlaff - Heather creates art which responds to the spiritual and natural world, using dreams as catalyst, through the lens of her Odawa, Mexican and American heritages. She works primarily in oil paint out of her studio in Minneapolis. She has been snow sculpting since 2008, with beginnings in Ely, MN at the Ely Winter Festival Snow Sculpting Symposium. The team, founded in 2011, began competing at the 2013 Minnesota State Snow Sculpting Competition annually.
Her interest in sculpting snow began as a 5th grader when she moved from Los Angeles California to Ann Arbor Michigan. Having grown up without snowy winters, when she moved to Michigan Heather prayed for Nor'easter snow storms! She would sculpt snow people, animals, igloos, funny scenes, and a bunch of other fun things! These earlier life experiences translated directly with her passion for the outdoors and creativity. When presented with the opportunity to sculpt a block of snow one winter while she worked at a camp in Ely in my 20's, she jumped on the opportunity and never looked back!
Brian Keeler - Brian currently works as a contractor and handyman. He recently moved to the Schmidt artist loft, where he sells his ceramic and photography work at art fairs. He has been snow sculpting on and off since 2012.
Team Sponsor - Wintergreen Northernwear
www.wintergreennorthernwear.com
Visit Team Dino Fight on Facebook @teamdinofight, and on Instagram at www.instagram.com/teamdinofight
Visit the Minnesota State Snow Sculpting Competition Website at www.mnsnowpark.com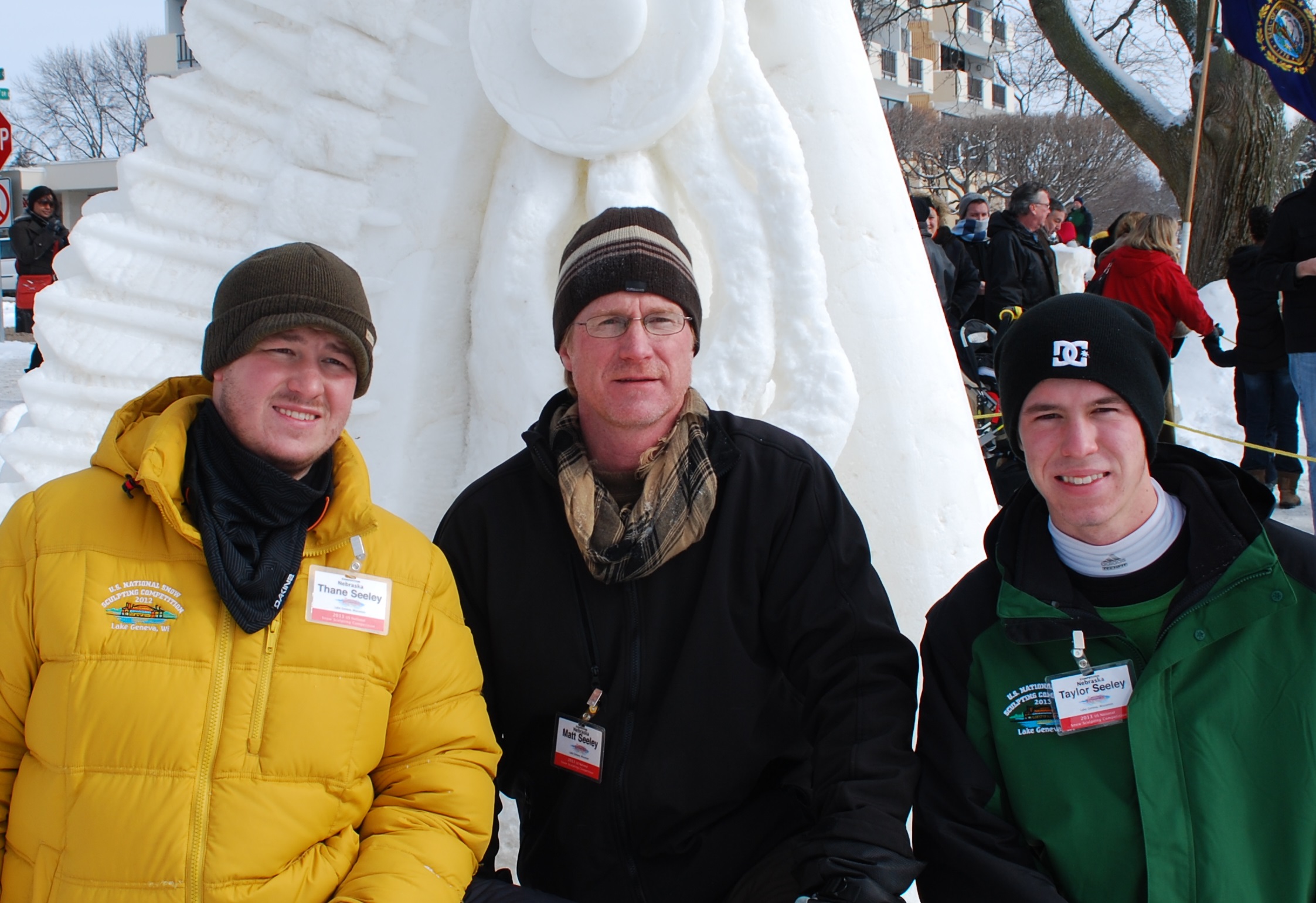 Team Nebraska
Team Captain Matt Seeley - Matt has been a Snow Sculptor for 20+ years and a chalk artist 20+ years. He designs and manufactures snow sculpting tools, welding, blacksmith, model design. In 2009 Matt's team, which includes Thane and Taylor, took 3rd Place at the US National Snow Sculpting Competition.
2012 - 3rd place – Team U.S.A. - Harbin International Snow Sculpture Competition
2012 - 2nd place - US National Snow Sculpture Competition
2011 - Ohm Award - US National Snow Sculpture Competition
2009 - 3rd Place - US National Snow Sculpture Competition
Thane Seeley - Thane is an Airport Operations Manager and has been a Snow Sculptor for 10+ years and a chalk artist 15 years. He is also a snow sculpting tool design and manufacture.
2009 - 3rd Place - US National Snow Sculpture Competition
2012 - 2nd place - US National Snow Sculpture Competition
2014 - Ohm Award - US National Snow Sculpture Competition
Taylor Seeley - Taylor is an Engineering Student and a Snow Sculptor for 6+ years and chalk artist 10 years. He too is a snow sculpting tool design and manufacture, model design and engineering.
2012 - 2nd place - US National Snow Sculpture Competition
Team Sponsor: FAHS, LLC
Visit the Nebraska team on Facebook at www.facebook.com/NebraskaSnowSculpting
Team New Hampshire
Team Captain Sandy Hall - Sandy has a Masters in Art Education and works as an Art Educator - and she loves art! Sandy said "All my life I have been creating... all forms of ART! Snow sculpting is a fun medium that I have discovered. I really enjoy working in sculpture, clay, wood and mixed media. Lets Create!" She has an impressive list of participation and awards including 1st Place NH Snow Carving: 2015, US National Snow Carving: 2014, 3rd Place Maine Winterfest Snow Carving: 2014, NH Snow Carving Competition: 2014-2003, 1st Place NH Snow Carving: 2013, US Nationals Snow Carving: 2008, 1st Place NH Snow Carving: 2007.
Robert Adams - Robert is an artist, climbing guide and builder. He competed as team member at Lake Geneva US National Competition in 2014. He has four years snow sculpting experience and also has done wood carving and sculpting for 20 yrs.
Lisa Stevens - Lisa has been practicing the art of jewelry making, repair and hand engraving since 1975. She also enjoys painting with water colors on surfaces from paper to furniture. Hand building with clay is a favorite thing to do along with snow sculpting of course! She loves playing with tools or just her hands to create some fun! She has an impressive background in competing and awards including 1998 peoples choice, 1st place VT state competition, 2000 3rd place VT state competition, 2001 2nd place VT state competition, 2002 3rd place VT state competition, 2003 2nd place VT state competition, 2007 1st place and sculptors choice VT state competition, 2008 2nd place VT state competition, 2011 1st place and people's choice Lake Morey VT, 2013 1st place and people's choice VT state competition
Team Sponsor - Jackson Chamber of Commerce
Team New York - "Team Waddington"
Team Captain Patty VanPatten - Tammy is a teacher's assistant and this will be her second competition. She loves being creative in all medias. Painting is one of her favorites. Working in Acrylic and Watercolor, she has won many awards. She has been interested in doing art from the age of eleven.
Zachary Dupray - Zachary is a School Counselor and has been sculpting snow for a little more than a year now. He got started in snow sculpting over last year when the town where he resides hosted the state snow sculpting competition. His team won the competition and the rest is history... Having lived in northern New York his entire life, he spent many winters outside building snow forts along with many other winter activities. He considers drawing his main creative outlet. Depending on the season, he enjoys participating in a number of hobbies such as skateboarding, golf, hockey, swimming, and drawing.
Katelyn Bernard - Katelyn is a Truss Designer and was born and has lived in Waddington all of her life. She has sculpted snow for about a year now, and got interested in snow sculpting when her town hosted the 2016 state snow sculpting competition. Her team placed first in that competition! She has experience with 3-d design and enjoys drawing and painting as her primary means of artistic expression. When she is not working, she enjoys gardening and boating in the summer as well as snowmobiling and figure skating in the winter time.
Team Vermont - "The Pour Saps"
Team Captain Katie Runde - Katie is a painter and has been sculpting snow for the last three years and she is excited to be leading Team VT back for what will be her third trip to Nationals. She started sculpting thanks to the encouragement of Adrian Tans (of International Team VT!) and can't get enough of pitting herself against such a huge artistic challenge. She is a professional artist but a realist oil painter—working small scale, high detail, indoors, traditional—the opposite of snow sculpture. She is also a 3D chalk artist because she loves the performance aspect of public art. She thinks it's great to bring the artistic process out of the studio and the art out of the galleries and into public spaces.
Tony Perham - Tony is a Front House Restaurant Manager and Server and has always had a great fondness for the Arts. Unfortunately it is not something he was able to pursue as a career. Snow art has rekindled his love for sculpting. Snow sculpture is endurance art to Tony. It's the Artist out in the elements persevering to complete a work of art. No warm studios and chai lattes for this guy:)! He loves that the medium is easy enough to work with in order to complete a 9 foot sculpture in a few days.
Mugsy Logan - Mugsy is a chef and a self taught pen artist and wood carver. He enjoys cooking, traveling and growing a competition worthy beard!
Team Sponsors - Vermont Independent Clothing company, Woods Pure Maple Syrup, and SAP Soda
Team Wisconsin 1
Team Captain Gina Diliberti - Gina is a Recreation Therapist and has carved in snow and ice throughout Wisconsin for the last 10 years. She took first in Nationals 2016, and won the Wisconsin State snow competition 2015 and 2016. Other awards include best of show Kohler, WI, 2010, and first place at the Waukesha Jamboree in 2013. Gina is a native Milwaukeean with a BFA in Sculpture from The Maryland Institute - College of Art. She attended UW-L, earning a M.S. in Recreation Management and currently works as a Certified Recreation Therapy Specialist. She believes play is the key to art-making and hopes everyone can find something that "makes your stomach smile" (as she remembers her high school art teacher saying) because carving snow does this for her.
Zachary Rueter - Zachary was raised in the cold of Minnesota. He moved to Wisconsin where he attended Milwaukee Institute of Art and Design with a major in Integrated Fine Arts Studio. He works with Conrad Schmitt Studios, a nationally recognized art restoration studio based in New Berlin. He also makes art both personally and with his art band, The Drypoints. He has been sharpening his skills with snow and ice over the last four years and has been gleaning as many skills as he can from all the great carvers that have come before him. He won Nationals in 2016 after taking first at the Wisconsin Championships 2015 with Dave Andrews and Gina Diliberti. He won the Wisconsin Championship 2016 with teammates Gina Diliberti and Ben Turski. He has a bright daughter named Mabel and a cat named Sugar that is as old as the hills.
Ben Turski
Team Wisconsin 2
Team Captain David Andrews - In his art restoration day job, Dave more of a painter and rarely gets the chance to carve/sculpt. In his 30 years of carving snow and ice, he has been a part of many great events including 17 US National Competitions. In addition to snow and ice, he believes that sand, chocolate and potatoes should be carved as often as possible. Dave has taken 1st Place nine times at the US National Event, along with 2nd and 3rd place awards!
Steve Bateman - Steve is a self employed sculptor who likes to think big. He has been carving snow for over 10 years. He has won many snow sculpting awards including 1st place in Italy. He has taken 1st Place at the US National Event in 2013, 2014, and 2015.
Kevin Sawicki - Kevin is a carpenter and an artist that has been carving snow for 20 years or so. He has been to Breckenridge many times. He is a sailing enthusiast, boat builder, and loves to share his gifts with youth groups.
Team Sponsor - Conrad Schmitt Studios
Team Wisconsin 3
Team Captain Tom Queoff - Tom started in snow sculpting by judging first Milwaukee international snow event and began sculpting snow 1986. As the captain and original member of the U.S. Snow Sculpting team, Tom and his teammates, Mike Martino and Mike Sponholtz have completed over 200 major snow sculptures around the world. The team has received numerous awards for their work including a Bronze Medal at the 1998 Winter Olympics in Nagano, Japan, a Gold Medal at the US Nationals in Breckenridge and a Bronze medal at the 2000 World Snow Sculpting Competition in Kiruna, Sweden.
Tom's team has carved many times at the Nationals including when it was held at the Milwaukee Zoo. They have won 2nd and 3rd prizes and people's choice and won first place in 1997 and 2010.
Mike Martino - Michael was born in Kenosha, Wisconsin. His father, Palmer, a commercial artist, taught him to draw and encouraged his sculpting. He graduated from Bradford High School in 1973 and went on to receive a BFA in Sculpture from University of Wisconsin-Milwaukee in 1977. He and his wife Phyllis, a talented illustrative watercolorist, were married in 1988. They have two sons, Tony born in 1990 and, Nick in 1992.
Michael shares his love of sculpture with children in various artist in residence programs and presentations in the schools. He also shares his experiences as a snow sculptor. Michael has traveled and sculpted snow with teammates Tom Queoff and Michael J. Sponholtz since 1986. They won a bronze medal in the 1998 Winter Olympic Arts Festival in Iiyama, Japan and in 2000 took third place in the World Snow Sculpture Championship in Kiruna, Sweden.
Michael J. Sponholtz - Michael's cathedral is the great outdoors. Whether on a mountain top in Idaho, or at a stream in Southwestern Wisconsin. That is what he wants to share with others through my art.
Visit the team on Facebook! https://www.facebook.com/Sponz-The-Art-of-Michael-J-Sponholtz-123957197672685/